No, not going to the bathroom time. LOL! Time to redecorate the main bathroom.
Our home is 60 years old... and our bathroom definitely showed it when we first moved in.
Who am I kidding?! It still shows it.
Here is a before pic from the listing...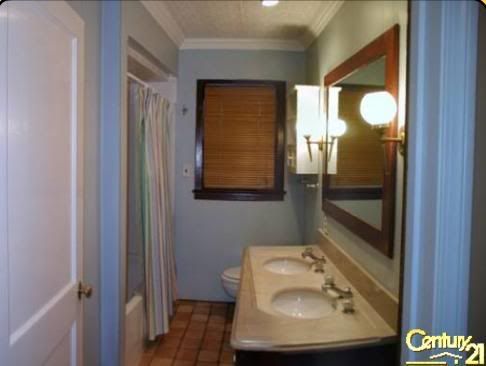 Do you see how dinged up the vanity was?! OMG! And check out those lovely plastic knobs! Please ignore the mess. These pics are over a year old from when we first moved in.
Gravy thinks it looks horrible! Do you see the look of disgust on her face? ;)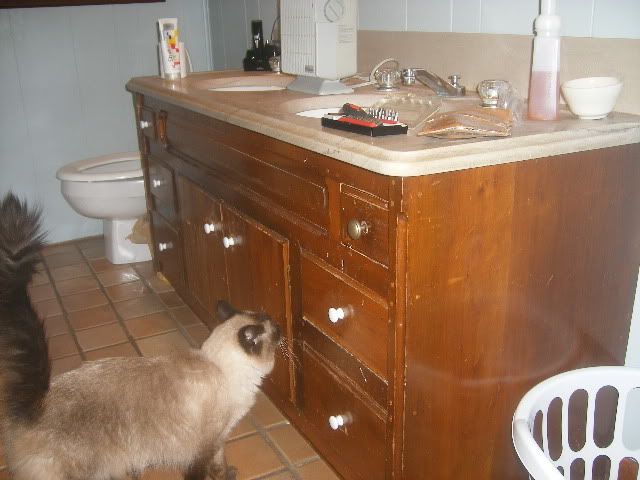 Well, I managed to refinish the vanity and replace the knobs. It's looking better already!!
These knobs didn't last long, though! They are now satin nickel (not shown below).
Judging by the soap dispenser, I am guessing this pic was taken some time around Halloween 2009. :-D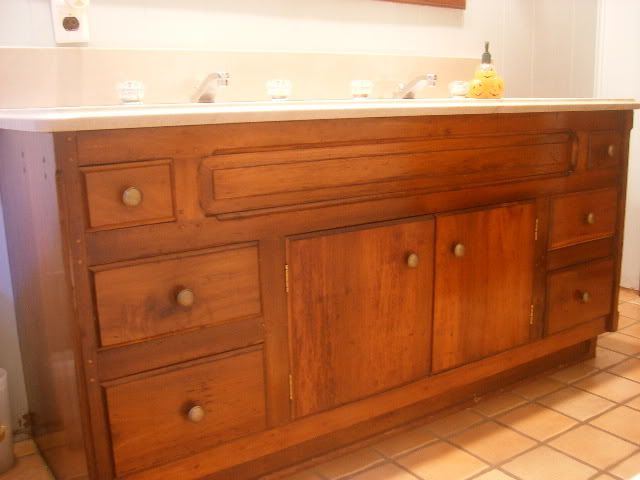 Here's how it's going down...
The new faucets were installed in 2009. The new knobs and all hardware have been changed to satin nickel as well.
I am replacing our white plastic curtain rod with a nickel crescent rod to make our shower feel roomier. :) Also, that inherited multi-colored shower curtain has got to go! I'm thinking matching ivory, beige, or off-white shower curtains and roman shades for the tiny window.
While we're at it, we might as well paint the bathroom a pale yellow, too! (WOW! That yellow swatch didn't look as bright before!) The bathroom is small. I want to open it up! I'm also partial to an antique white for the walls. Thoughts? I like things to look kind of old and earthy... and I think all white (not bright white) would look good with the wood. So, it's a toss up at this point! I'll have to check out some paint swatches before making my final decision.
I am having trouble deciding between the sconces pictured above. Which do you like better? I think I like the left one, but it is twice the price!
My other roadblock at the moment... this shelf. I don't like it in here! It doesn't match at all, so I am moving it to the basement bathroom. I'm having a hard time finding artwork to put in its place.
There's my tentative plan! I'm sharing it with the whole world (or at least my Bloggerfam LOL!) so that I will get off my lazy butt and JUST DO IT! :)
If only I would adopt that mindset for cardio.