Posted by

Genie

on Monday, December 22, 2008
I like to make meal prep as simple as possible. One of my favorite, easy, no carb, take-along meals is chicken (or whatever lean meat is on sale that week!) and spinach. Plain ol' frozen spinach! To make my life simple, I cook a package of chicken breasts, throw them each in a plastic container, and weigh! Then I 'tag' each container with the weight of the chicken.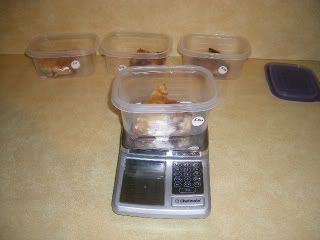 Next, I pour in 100g of frozen spinach. I don't even bother cooking it.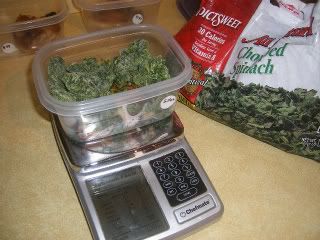 Easy, right? Next comes the thing that makes it FABULOUS! Smoked sea salt! Yum! It's my seasoning of choice!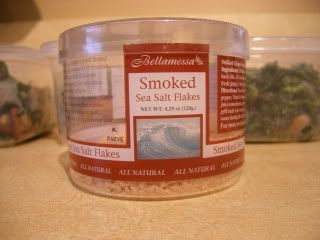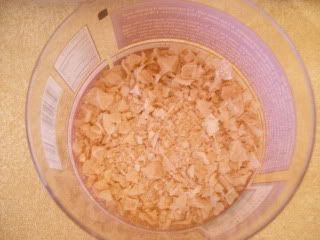 Sprinkle some on top...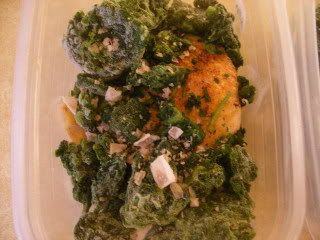 Pop a lid on those bad boys...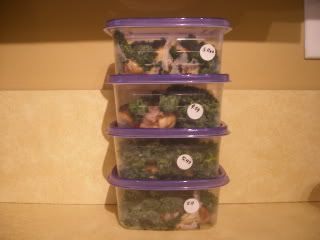 and VOILA! There are several meals for the week!

Tasty and delicious! I store them in the fridge and throw one in my cooler on my way to work. When I'm ready for my meal, I just nuke it for 60 seconds! (microwaving time may vary)

YUM! Contest prep tastes good!
My oh my! Where does the time go?! Contest prep started yesterday, so prepare yourself for a few clean (or cleanish) recipes to be posted intermittently throughout my blog. Usually, I like to prep most of my meals on Sunday.
Let's start with breakfast. This week I will be eating Apple Loaf.
APPLE LOAF
Ingredients:
4 egg whites
35g old-fashioned oats
1 small red delicious apple
Splenda (or other calorie-free sweetener) to taste
Pumpkin pie spice to taste (other spices and blends are great, too!)
Directions:


Preheat oven to 350*.


Spray pot pie tin with nonstick cooking spray.


Toss egg whites, oats, Splenda, and spices in blender. I like the Magic Bullet.


Blend until somewhat smooth.


Pour concoction into pie tin.


Slice apples and add to concoction.


Place in oven and bake for approximately 40 minutes.


VOILA! It's ready!
Nutrition Facts:
Calories: 260
Fat: 2g
Carbs: 38g
Fiber: 7g
Protein: 21g
Tips you may find handy:
I like the pot pie tins because they come with lids. Once cooled I just toss them in the fridge until they are ready to be devoured.
I will sometimes make up to 5 of these at a time. Just throw all of the ingredients into the blender (except for the apples) and pour them evenly into tins.
Other fruits and fillings are fabulous in this as well. This includes, but is not limited to, berries, canned pumpkin, applesauce, and bananas.
Depending on your nutritional goals, feel free to tinker around with the amount of egg whites and oats you use. Easy Peasy!
EAT UP!!! nomnomnom