WOOO!!! Today is my carb-up day. I'm giddy like a school girl. It's sad, really!


For breakfast, I had protein waffles (protein, oats, and egg whites) topped with a fruity syrup (Jok'N'Al Black Currant sugar-free spread, sugar-free syrup, and chopped apples), and a small side of oats. PHEW! I'm stuffed!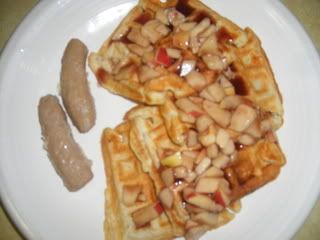 The sausage looks a little gross due to reheating it in the microwave, but I assure you, it still tasted good. Who am I kidding? Everything tastes good after a few low days. LOL!


The meal I am most looking forward to is this one (half shown below):


Toasted Sesame Ezekial Bread, topped with smoked salmon, fat free french onion dip, and roasted red peppers. I know, I know, you're probably thinking why the heck is she eating dip on prep?! The macro breakdown: 0F/2C/1P. It sure beats the low cal dressings I was eating, too! So, fat free dip is my new salad dressing for the next little bit. It rocks!


Yay! It's a happy eating day for me! I'm going to have a killer workout this evening!