I've been wanting a stick blender for a while now, and I finally ordered one! I get so excited about kitchen gadgets. I own an interesting array of them. At least half sit in my cabinets lonely and unused, but I find comfort in knowing that I have them and that I can bring them out to play whenever I wish! As I become more obsessed with cooking, recipes, and the Food Network, I find my wants for all things kitchen growing. Luckily I had a leftover gift card from JC Penney, so I was able to order this little bad boy for next to nothing...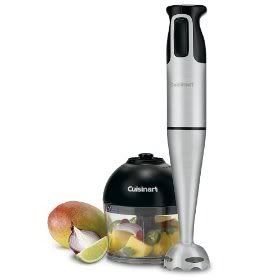 I can't wait for it to get here! I'm sure it will be used for strictly clean contest prep type meals at first, but I have visions of preparing a deliciously creamy butternut squash soup in the not so distant future.

Next on the to-buy list: food processor & stand mixer. I keep putting these off because they're on the pricey side.